It has been requested that this article is set to be rewritten to fit the wiki's standards. Please note that large changes will be made and that your edits may be heavily edited or erased.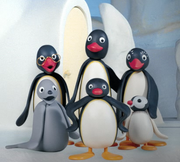 The
South Pole
is where Pingu lives and where all 6 (8 including
Pingu in the City
) seasons are set.
In the middle of an endless ice landscape lies a small penguin village. The inhabitants live in individually designed igloos. It is very cold and is full of snow and ice. Pingu lives in an igloo here which is home to Pingu, Mother, Father and Pinga.
In Pingu in the City it is revealed that the South Pole has a city as well. It is unknown how far the city is to the village.
Gallery
Community content is available under
CC-BY-SA
unless otherwise noted.