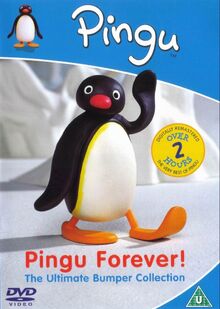 Pingu Forever! was released on DVD and VHS in 2003. It contains 24 Episodes.
This DVD is sort of a combined re-release of Barrel of Fun, Pingu 2: Building Igloos, Pingu 3: Hide and Seek and Pingu 4: Pingu the Chef into one full feature, however, after HiT became the distributor of the show and when they remastered the episodes in 2002, they chose to use the 1990s redubs of the episodes rather than the original versions. As a result, the episodes on this DVD and subsequent DVDs are presented in their redubs .
Episodes
DVD Features
Continuous Random Play
Photo Gallery
Episode Selection
Web Links
Animated Menus
Release Dates
United Kingdom: August 18, 2003 (original), January 12, 2009 (Carry Case re-release)
Australia: 2004
Trivia
This is the first Pingu DVD released by HiT Entertainment in the UK, after they bought the show's license from the BBC.
This is the first Pingu DVD released in Australia by Magna Pacific.
The Web Link menu on this DVD was later reused on the "A Very Special Wedding" and "Pingu the Snowboarder" DVDs.
This is one of the few releases that never got it's own official American release in the United States.
This is the first DVD to feature the remastered episodes of Season 1 and 2.
Gallery
Screencaptures
DVD / VHS Packaging
Community content is available under
CC-BY-SA
unless otherwise noted.