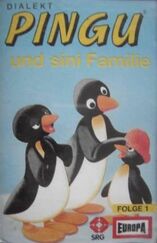 Pingu-Hörspiele
was a series of audiocassetes produced by Europe Mini and BMG Ariola with stories adapted from the
Pingu
tv series narrated by
Sibylle Von Flüe
, but later replace by Toni Vescoli.
[1]
 It ran from 1 May 1993 to 1 October 2001. It was a major success with over millions of copies sold.
[2]
Around 2014, the series was rereleased digitally on iTunes and exlibris.
[3]
[4]
 Later, it was released on Soundcloud and Spotify.
[5]
[6]
Audiocassettes[7]
Pingu und sini Familie
Pingu und sini Schwöschter
Pingu und sini Fründ
Pingu De Lusbueb
Pingu de Schlaumeier
Pingu im Zirkus
Pingu de Pächvogel
Pingu i de Schuel
Pingu de Sportler
Pingu de Abentüürer
Pingu voll in Fahrt
Pingu de Entdecker
Pingu fiiret Fäscht
Pingu als Zauberer
Pingu a de Chilbi
Pingu als Babysitter
Pingu uf de Schuelreis
Pingu und s'Gschänk
Pingu hilft im Hushalt
Pingu isch übermüetig
Pingu uf Reise
Pingu und sini Streich
Pingu hät en Idee
Pingu und d'Mueter
Pingu und sini Erläbniss
Pingu bim Arzt
Pingu als Künstler
Pingu de Spieler
Pingu und d'Post
Pingu und sini Ferie
Pingu de Erfinder
Pingu im Paradies
Pingu als Pilot
Pingu de Besserwüsser
Pingu de König
Pingu spielt Superman
Gallery
References
Community content is available under
CC-BY-SA
unless otherwise noted.