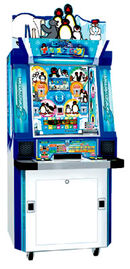 Pingu's Ice Block
(Japanese: ピングーのアイスブロック) is a Japanese-exclusive puzzle action medal game machine produced by Capcom, in February 2006.
Description
When the medal passes through the board chucker, the dice rolls. Pingu moves according to the outcome and breaks the ice block at the position where it stopped. If you arrange three or more ice blocks of the same color, the reels will rotate and you will get stock symbols to challenge the jackpot and bonus games according to the aligned marks. Chance roulette starts when passing through the chucker in the center of the board surface. The effective range of the dot matrix at the bottom expands, and players can advance the game advantageously.
Images
External links
Community content is available under
CC-BY-SA
unless otherwise noted.