It has been requested that this article is set to be rewritten to fit the wiki's standards. Please note that large changes will be made and that your edits may be heavily edited or erased.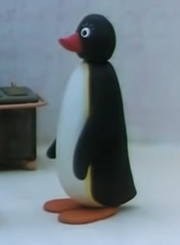 Pingu has several aunts who sometimes appear in different episodes throughout the series. Most of them are his mother's sisters.
Appearances
In Pingu Goes Away, Pingu went away to go and visit one his aunts.
In Pingu the Babysitter, Pingu looked after an aunts' twin chicks.
In Pingu Makes a Mistake, Pingu was asked to look after the egg of another of his aunts', as it was due to hatch that day.
Community content is available under
CC-BY-SA
unless otherwise noted.