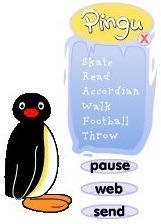 My Friend Pingu is a free virtual desktop toy, created officially by Hit Entertainment, that puts Pingu onto your desktop. It allows Pingu to appear on the screen with a menu next to him when you switch on the computer. If you click the buttons on the menu, Pingu can skate about, read a book, play the accordion, walk around, play football and throw, there are also buttons to stop Pingu, go to the Pingu website and to send My Friend Pingu to a friend. If you leave Pingu on his own, he will dance, laugh and say "Noot Noot!"
Gallery
Download
https://archive.org/download/myfriendpingu/myfriendpingu.exe
Community content is available under
CC-BY-SA
unless otherwise noted.