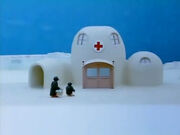 The
Hospital
is where most sick or injured penguins visit. It is located not that far from Pingu's igloo. Doctors and nurses currently treat penguins that are sick or injured.
Description
The main hospital is a large igloo complex with swinging double doors at the front. Next to main area is a garage for the sledge ambulance and stretcher sledges on one side and a set of wards round the other side. There are more wards on the top floor of the main area above the reception and waiting room. Pinga went to the main hospital when she broke her wing. Grandpa went there twice because of a few injuries (A Very Special Wedding and Pingu Helps Grandfather) and he once had to Pingu take up there because of a sore tummy.
There are some smaller hospitals dotted around the Antarctic for some of the more minor injures the characters have in the series. Pingu went to one of these when he injured his beak, his foot and his head.
Gallery
Community content is available under
CC-BY-SA
unless otherwise noted.