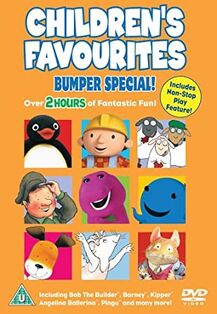 Children's Favourites: Bumper Special was released on 13 January 2003. It has a runtime of one hundred and twenty-six minutes. It features a second season episode of Pingu.
Description
Bumper Children's Favourites is a fantastic collection of the most entertaining and educational TV programmes ever!
Children will be captivated by much-loved friends such as Bob the Builder, Angelina Ballerina, Barney and Pingu together with a selection of six other great TV characters.
This exclusive compilation boasts an extended running time of over two hours, with some episodes never before seen on video.
Episodes
"Angelina Ballerina" - "Midnight Muddle"
"Animal Stories" - "Eric the Elephant"
"Barney" - "TREE-mendous Trees"
"Bob the Builder" - "Dizzy's Crazy Paving"
"Brambly Hedge" - "The World of Brambly Hedge"
"Kipper" - "The Fair"
"Oswald" - "Henry Needs a Haircut"
"Percy the Park Keeper" - "The Cross Rabbit"
"Pingu" - "Pingu and the Seagull"
"Sheeep" - "The Flat Tyre"
Community content is available under
CC-BY-SA
unless otherwise noted.