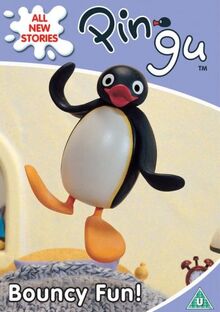 Bouncy Fun! is an DVD released in the UK on May 17, 2004 by HIT Entertainment and later in Australia by ABC for Kids on June 10, 2011.
The UK version has 9 episodes while the AUS version has 11 episodes.
Description
Join Pingu on the first 9 brand new adventures from Series 5! The cheeky little penguin is now on DVD to watch again and again!
Episodes
UK
AUS
Trivia
The web link menu used on this DVD was later reused on the Stinky Pingu and Sledge Academy DVDs.
The HiT Parade menu used on the UK DVD was later reused on DVDs released by HiT Entertainment until January 17, 2005 when Ultimate Children's Favourites released with the new updated menu.
Pingu's Bouncy Fun, Pingi's Valentine Card, Pinga's Lost Rabbit and Pinga Sleepwalks appears in all versions of this DVD.
Release Dates
United Kingdom: May 17, 2004 (original), April 9, 2007 (Carry Case re-release)
Australia: June 10, 2011 (as Pingu's Bouncy Fun!)
Gallery
DVD / VHS Packaging
DVD Menus
UK
Community content is available under
CC-BY-SA
unless otherwise noted.