It has been requested that this article is set to be rewritten to fit the wiki's standards. Please note that large changes will be made and that your edits may be heavily edited or erased.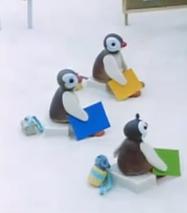 Baby Penguins
appear throughout the series. Numerous have been seen with a flick of hair or wearing accessories. All of them resemble an emperor penguin chick with different colours.
Notable Chicks
Trivia
To distinguish them from Pinga, most of the other baby penguins' darker feathers are a warmer shade of grey.
Gallery
Community content is available under
CC-BY-SA
unless otherwise noted.